Functional Analyst - Application Management Service
To expand our workforce, we are looking to hire a Functional Analyst for the application management service structure at our headquarters in Milan.
The person selected will be called on to provide Level I, II and III support. You will have the opportunity to be part of a team of professionals and learn through training courses and on-the-job training.
The person selected will be assigned a customer portfolio and will deal with the following activities:
Trouble-shooting on the production application;
Quantitative and qualitative data analysis;
Analysis of evolutionary and improvement strategies related to the application management service aimed at making processes more efficient
Candidate requirements:
Degree in Economics or Management Engineering
Strong interest in and knowledge of IT
1-2 years experience in the role
Analytical skills and a marked aptitude for problem solving
Excellent relational and organisational skills
Teamwork driven
Location: Milan
What we offer:
Vibrant and young environment, opportunities for growth, remuneration commensurate with the skills possessed and the work experience gained.
The offer is aimed at candidates of both sexes pursuant to Law no. 903/77.
Contact person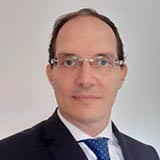 Silvio Lucano
Head of Consulting
Silvio joined OCS in 1997. Since 2018 he holds the role of Head of the Consulting Division responsible for coordinating and monitoring all the activities concerning customers projects and the evolution of OCS suite. Previously he worked in the industrial (management control at Cartiere Burgo) and banking sector (JP Morgan Finance division). Silvio holds a degree in Business Economics from Bocconi University in Milan.