Computer Application Technician
To expand our workforce, we are selecting an IT Applications Technician for the Application Management Service structure, at our headquarters in Milan.
The person will be assigned a customer portfolio and deal with the following activities:
Software component installations on AS400 servers (main server) and on Unix servers and Windows servers;
Second-level and technical support activities (check server logs) for the OCS suite and any other applications included in the application maintenance service;
Monitor scheduled processes on AS400 servers;
Transmission of flows mainly via sftp and ftp commands;
Monitoring performance using specific tools;
Incident analysis;
Fulfilment of user service requests (extractions, technical configurations);
Maintenance of test environments with database refresh;
Technical assistance to users on the different work environments for periodic processing activities;
First and second level assistance on malfunctions and critical issues encountered by users;
Ticketing management;
Execution of application configuration for correct operation;
Running of debugging sql scripts;
Candidate requirements:
Diploma as computer expert and/or Degree in computer science
Previous experience of 2-4 years in the role
Knowledge of IBM AS400 servers, Unix servers and Windows servers
Good trouble-shooting skills
Excellent relational and organisational skills
Location: Milan
What we offer:
Vibrant and young environment, opportunities for growth, remuneration commensurate with the skills possessed and the work experience gained.
The offer is aimed at candidates of both sexes pursuant to Law no. 903/77.
Contact person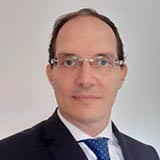 Silvio Lucano
Head of Consulting
Silvio joined OCS in 1997. Since 2018 he holds the role of Head of the Consulting Division responsible for coordinating and monitoring all the activities concerning customers projects and the evolution of OCS suite. Previously he worked in the industrial (management control at Cartiere Burgo) and banking sector (JP Morgan Finance division). Silvio holds a degree in Business Economics from Bocconi University in Milan.